Nerdy Gifts My Husband Would Love
It's holiday time again! I don't like to toot my horn or whatever, but I'm actually pretty good at buying nerdy gifts my husband loves. He loves video games and comics, which are easy to find, but sometimes it's nice to do something inside the geek realm that ISN'T actually a comic book or a video game – something unique.
(Disclaimer: This post contains affiliate links. That means that when you buy stuff through some of the links on my blog, I earn a commission. You aren't charged more than normal and you're helping support Autumn on Fox Street. Thank you! I only recommend products that I really love, have purchased, or would purchase.)
Here are some of my favorites this year:
#1. Geek Subscription Boxes
Last Christmas, I bought my husband a 3-month subscription to Geek Fuel, and we loved it so much that we kept it. Later, we added Nerd Block, which was equally fun. We haven't tried Loot Crate, but a few of our friends have enjoyed that one too.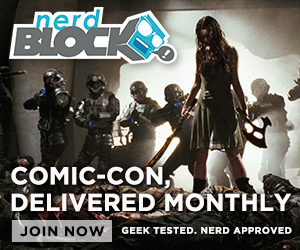 A subscription box is a fun way to keep the gifts coming over several months, and they always cram them with way more value than you paid for the box. Items we've gotten have included graphic novels, coffee mugs, pint glasses, limited edition artwork and comics, and even a little flower pot shaped like one of the green pipes from Super Mario Bros. (Get it?)
We had to give up our subscriptions over the summer to pay extra bills (being adults…bummer), but there is a good chance one or two of these boxes will start making an appearance at our house again in the New Year.
#2. Marvel Unlimited
OK, so my husband and I made this pact that I was going to be one of those wives that actually reads comics instead of just watching the movies and saying she loves superheroes. I mean, the movies are great, but I don't want to be that, "OMG I saw Suicide Squad and I just looooooooove Harley Quinn! (insert rainbow-colored hair fangirl squeel)" girl that all my husband's comic bros bitch about.
If you didn't grow up reading comics, it's overwhelming. The storylines, universes, multiverses, alternate universes – it makes my head spin. Where do you even start?
That's where Marvel Unlimited comes in. For $10 (equivalent to Netflix) you can gain access to 17,000 Marvel comics online, including The Avengers, Guardians of the Galaxy, The Amazing Spider-Man, and X-Men. I am free to fully explore my crush on Bruce Banner.
And I can be a legit comic wife.
#3. Graphic Tees
Worried your husband has too many graphic tees? Ha! There is no such thing. In fact, I'm usually stealing all the good tee's in the house, so my husband could do with a few more.
Graphic tees are amazing because there are t-shirts for every fandom, every comic book series, every video game, every weird scifi/fantasy world. EVERYONE produces t-shirts, and there is a perfect shirt for every geek.
My favorite shirts come from our monthly subscription boxes (see #1), but I also frequently order from Fiver Finger Tees, Busted Tees, and Textual Tees. I've also been known to drool over Doctor Who tees from Hot Topic, even if every 14-year-old Whovian within 20 miles is wearing them too.
#4. Help Them Create Their Own Comics
I know my husband and his friends have been discussing doing a graphic novel together, and I think it's a great project for creative minds. Udemy offers a course on comic production. These books would also make great gifts to help them along the way:
#5. Nerd Decor
Get them something nerdy for the house. We have slowly been accumulating decor, posters, artwork, canvas prints, and collectibles for my husband's office (AKA the man cave). I reeeeally want to get him this Batman clock; he's been pestering me for a clock forever!
Game of Thrones Pint Glass Set
Whatever you decide to get for the nerdy guy (or girl – I love this stuff too!) in your life, make it fun, make it unique, and make it thoughtful!